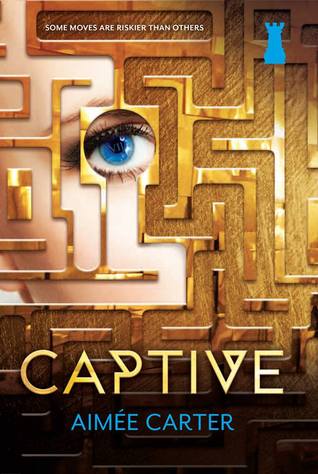 Goodreads summary:
For the past two months, Kitty Doe's life has been a lie. Forced to impersonate the Prime Minister's niece, her frustration grows as her trust in her fake fiancé cracks, her real boyfriend is forbidden and the Blackcoats keep her in the dark more than ever.

But in the midst of discovering that her role in the Hart family may not be as coincidental as she thought, she's accused of treason and is forced to face her greatest fear: Elsewhere. A prison where no one can escape.

As one shocking revelation leads to the next, Kitty learns the hard way that she can trust no one, not even the people she thought were on her side. With her back against the wall, Kitty wants to believe she'll do whatever it takes to support the rebellion she believes in—but is she prepared to pay the ultimate price?
My review:
After being blown away by the awesomeness that was Pawn last year, I was a bit nervous about whether or not the sequel would really be as good as the first. Luckily, Captive was just as epic! I was honestly shocked by some of the amazing twists. The only con is that I found myself a little more annoyed with Kitty than I did in the first book.
In Pawn, I was amused by Kitty and connected to her character a lot. But in Captive, she just didn't click for me. She is a good character in that she's independent and shows maturity. Yet I was frustrated because at every turn, she does something that hurts else. It felt like she was constantly trying to be proactive and help, but she just made things worse! That bothered me somewhat.
But aside from that, this book was so much fun (and it gave me a lot of feels, just FYI!). Admittedly, it does start out slightly slow, but about a third of the way there's a major scene that makes you go, "WHAT?!" and from then on, it's literally impossible to put down. And there are many more twists to come throughout the book. So many things about the rebellion, Lila, etc. are revealed. I was really pleased because this sequel expanded thoroughly on things mentioned in the first book.
Overall, Captive was amazing. Yay for sequels that increase character growth, have complex storylines, and delve deeper into world-building! I did get a little irritated with Kitty's character at times, but really, that is the only flaw. I can't wait to see how it all goes down in the last book!
*I received a free copy from Netgalley in exchange for an honest review. Thanks!
My rating: 4 out of 5 stars